3-Day A Week Fat Loss Workout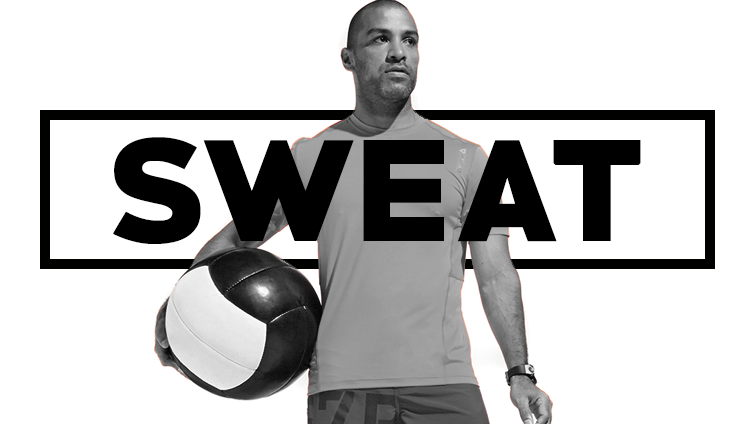 3-Day A Week Fat Loss Workout
You're a busy person. You don't have time to make it to the gym five times a week. You want to go more often but life is simply getting in your way. You have work or family priorities or maybe you're dedicating time to a personal project. Or perhaps you don't enjoy training as much.
You already know how important it is to stay in shape. You want to look better, you want to feel better, but you don't know what to do in the gym. You want, you NEED some structure.
With this plan you are not going to have time to focus solely on one muscle group. If you train 4-5 days a week, then you would have more time/space to properly split your training in a way where you can focus on one or two body parts.
With 3 days I would suggest a total-body training approach. This is an efficient use of your time and efforts. You won't be doing any single joint exercises or small-muscle exercises. You want to do full body (compound) movements that engage as many muscles as possible. Movements like squats, push ups, pull ups and lunges to name a few.
Metabolic Circuits
You're going to plug these exercises into metabolic circuits. Metabolic circuits are a group of exercises that blend strength with cardiovascular training. The problem with some cardio workouts is that they are focused around just burning calories. Burning calories is not enough. You want a metabolic effect (EPOC) and to achieve that you must add weights to the mix, rest very little between exercises and choose full body movements. Epoc or Excess Post-exercise Oxygen Consumption is a state where the body continues to use oxygen for various metabolic processes following an intense training bout. This post oxygen consumption burns calories, tons of it, even hours after your finish training.
Why You Will Love This Workout
Ok fine, maybe you won't love every second of it but you will enjoy its benefits. Training is never going to get easier, you just get better.
A longer workout is not necessarily a better workout. These workouts will take you anywhere between 20-35 minutes to complete.
You won't be needing any fancy equipment. You just need your body, dumbbells, a barbell and a kettlebell.
You will work every inch of your body with the exercises in this workout.
Workout- Monday or Day 1
In Monday's workout you are going to focus around 3 movement actions:
· Knee Dominant Movements: These are exercises that focus around knee flexion/extension. These movements target a significant area of the quadriceps muscle group.
· Upper Body Pushing Movements: These movements focus on exercises that require a pushing action such as push ups and shoulder presses.
· Core Stability: These exercises focus on the center muscles of the body. When someone thinks of core exercises they usually think of crunch (trunk flexion) type of movements like the sit up or reverse crunch. Core stability exercises are unique because they target the same muscles with the added benefit of also challenging hip and shoulder stability (which we all can benefit from). Some core stability exercises don't require a lot of movement, but don't let that fool you. Done well, these exercises can be very challenging. Core stability movements also have a greater purpose, they help strengthen the muscles that protect our spine.
Complete these 8 exercises in order without resting. Do the entire circuit 2 times. Rest only 3 minutes in between circuits.   Pick a weight that will allow you to perform 10-12 repetitions with great form for the entire workout. You will notice that after the upper and lower body exercises you have a conditioning exercise. For example, you can do kettlebell swings for 15 reps or you can do 20 reps of jumping jacks. You have this option just in case you don't know how to swing a kettlebell.
Workout- Wednesday or Day 2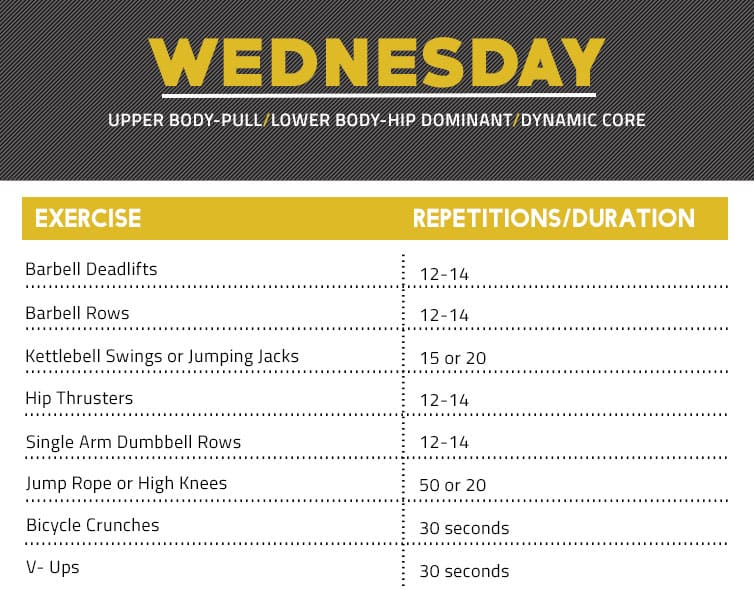 Just like in Monday's workout, Wednesday's workout focuses on 3 movement actions:
· Hip Dominant Movements: As the name implies, hip dominant movements are movements that are primarily done at the hip and target the back of the leg (the hamstring muscles). Just as with the knee, movements around the hip joint include flexion/extension.
· Upper Body Pulling Movements: These movements focus on exercises that require a pulling action such as rows. Pulling movements target the back muscles as well as the biceps.
· Dynamic Core Stability: These core exercises will involve a lot more movement than the core exercises from Monday but they wont challenge or improve shoulder or hip stability, that is the trade-off. 
Wednesday's workout is slightly different. You will do the circuit three times instead of two. You will be using a lighter weight too, one that will allow you to complete the circuit for 12-14 reps (except for the conditioning movements). Rest only 3 minutes in between circuits.
Workout- Friday or Day 3
The last workout of the week will consist of plyometric exercises. Plyometric exercises are done in short bursts and there purpose is to increase power. Since power exercises demand a lot from the body and the nervous system, they are placed at the very beginning of the workout.
The first circuit contains two plyometric exercises, one that is predominantly lower body and the other focuses on the upper portion of the body. If you are not conditioned enough to do these exercises then do speed squats (10) instead of box jumps and push ups (15 reps) instead of bench plyo push ups. Complete the first circuit two times, but three times if you're doing the modified version. 
The second circuit has four exercises, two for total body conditioning and one for upper and lower body. If burpees are too difficult for you, then I'm sure you can find a modification here. Complete this circuit three times. Rest 3 minutes before you move on to the third circuit.
The third and final circuit of this workout focuses on core rotation. These exercises blend a bit of stability with trunk rotation and they focus on the oblique muscles.
The Exercises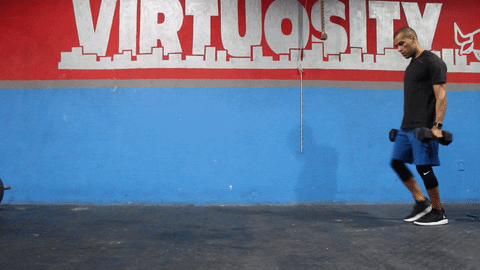 Walking Lunges
Walking lunges are a great exercise to develop the muscles of the lower body. There also great in providing a heart pounding workout due to it's loaded locomotion.
Grab a pair of dumbbells and place them on the sides your thighs. Step forward with one leg as you bend the back knee. The back knee should come close to the ground. Make sure to stay upright through out the exercise, then drive with the your front heel to extend your leg and stand back up
Barbell Chest Press
Lie flat on a bench. Place your hands about 3-4 inches outside your shoulder. Pick up a loaded barbell of the rack and press it to the top position with your arms locked out. You then want to bring the barbell close to your chest, inhale as it comes down. Do not let your elbows flare out too much. 
Then push the barbell away from your body to the starting position as you exhale.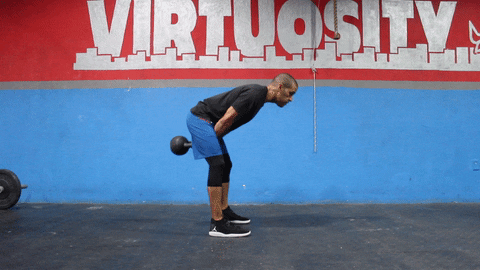 Kettlebell Swing
The kettlebell swing is a phenomenal exercise to increase total body strength and improve work capacity.
Place the kettlebell in the floor in front of you. Before you initiate the movement make sure you have a straight, neutral spine. Look forward and toss the kettlebell behind you while you shoot your hips back. The kettlebell should be very close to your thighs. Then forcefully bring your hips forward to a standing position, this will allow the kettlebell to come forward to about shoulder height.
Then let the kettlebell travel back towards your hip in a pendulum motion. Again, the kettelbell should come behind you.
Things to look for in a good swing:
You want to squeeze your butt at the top position of the swing. Your legs are straight and your abs are engaged. Exhale at this portion of the exercise.
Your heels should remain on the floor through out the entire exercise. Lifting your heels off the ground will make your movement unstable and potentially unsafe.
On the way down, the kettlebell should come close to your groin. This tells you you have control of the kettlebell, not the other way around. Don't let the kettlebell travel below your knees on the way down, this will put a lot of stress on your lower back. Inhale at this portion of the exercise.
Make sure your arm is not coming out of it's shoulder socket at the top position.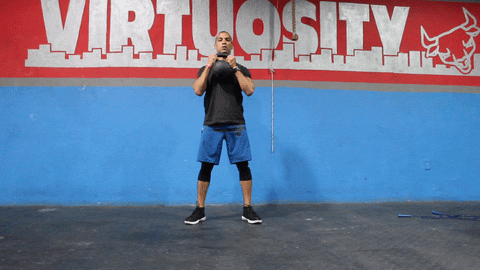 Goblet Squat
The Goblet Squat is an amazing exercise that will challenge core stability while strengthening the lower body.
Grab a kettlebell by the handles and bring it towards your chest. Sit back on your heels as you control the descend of your squat. Your elbows should come in contact with knees at the bottom position. Exhale as you stand back up.
Push Ups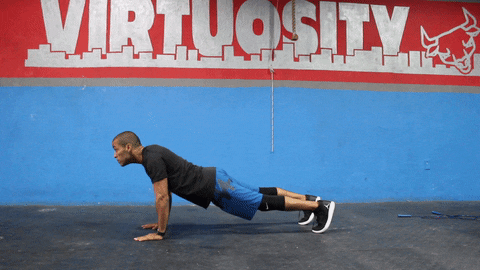 Start in a plank position. Place your hands about 3 inches away from your chest. Lower your body (inhale) where your chest is almost coming in contact with the ground. Then push yourself away from the ground (exhale) to the starting position.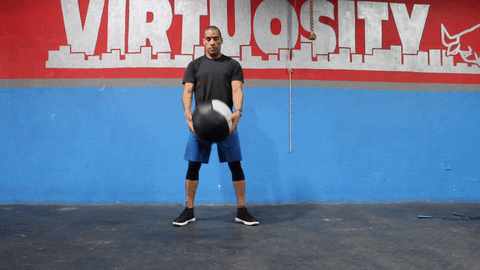 Medball Cleans
Stand over the medball while you shoot your hips back. Stand up as fast as you can while you bring your hips forward. The medball should travel very close to your body as you shrug your shoulders so that you can land underneath it in a front squat position. Stand up and then repeat the movement.  A common mistake is to curl the medball towards your body instead of shrugging the shoulders.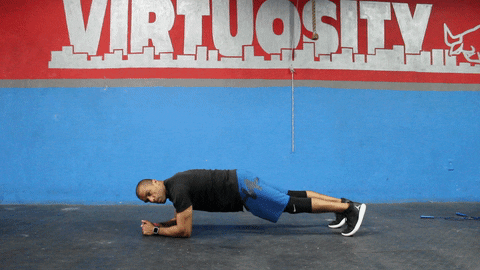 Plank
Face the ground and place your forearms underneath your body. Your elbows should be underneath your shoulder joint. Your body should remain straight. Don't let your hips sag. Contract the abdominals and squeeze your quads. Breathe throughout the exercise and don't make your head heavy. If you want to make it harder try a planche plank.
Side Plank
The side plank is a fantastic core exercise that targets you obliques, hips, lats, back and shoulders.
Lie on your side with your forearm on the ground. Your body should make a straight line. Your elbow should be underneath your shoulder. Don't bring your head too forward and keep your hips squared.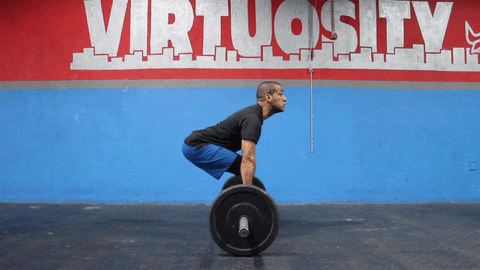 Barbell Deadlifts
Place the barbell in front of you where your shins are very close to it. Place your hands just outside your legs. Shoot your hips back while keeping a flat back and chest upright. Forcefully drive your heels into a standing position. Then lower the bar under control, make sure it is travelling close to your body on the way down.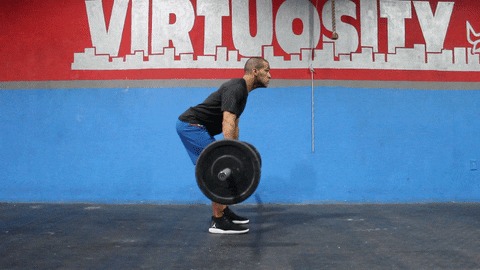 Barbell Rows
Initiate the movement by first shooting your hips back and by slightly bending the knees. Brace your abs as you row the bar up until it touches the area between your upper abdomen and lower rib. Exhale as you row.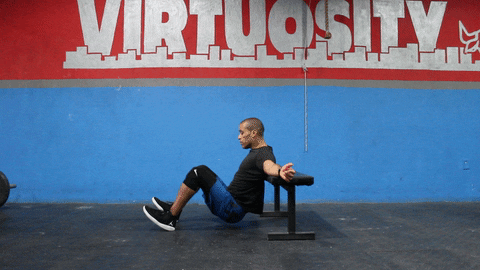 Hip Thrusters
Hip Thrusters should be an essential exercise for everyone, no matter your goals. This exercise does a wonderful job at targetting your glutes, hips and hamstrings. Don't let the simple set up fool you. This exercise can be very challenging, even for the toughest, fittest people.
Place your upper back on the side of a bench and let your lower body hang. Bend at your hips where your butt is almost touching the ground and drive through your heels to the top position. Make sure you squeeze your butt at the top.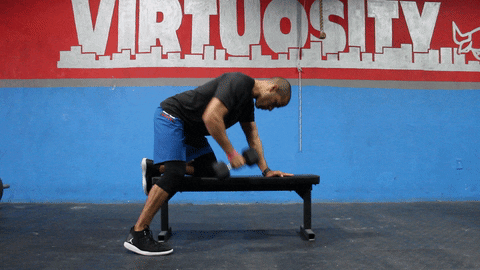 Single Arm Dumbbell Rows
Grab a dumbbell and place one arm and one leg on a bench. Your torso should be somewhat parallel to the floor. Once in position, row a dumbbell towards your chest. Your arm should be close to your body. Exhale at this portion of the exercise, then return the arm that's carrying the dumbbell to the starting position.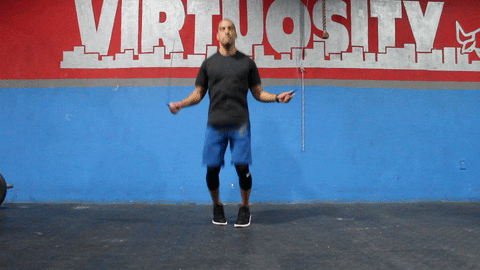 Jump Rope
The jump rope is an underrated conditioning tool in my opinion. It is definitely a skill that must be practiced. While there are many ways to jump rope, simply doing a basic version like the one i'm doing in the picture above is more than enough.
Grab a jump rope that is the appropriate size for your body. Jump on the balls of your feet, never on your heels. Keep your body straight, compact. Your arms should be close to your body and perform the revolutions using your wrists, not your arms. If you don't know how to jump rope or wish to skip it, then try doing high knees.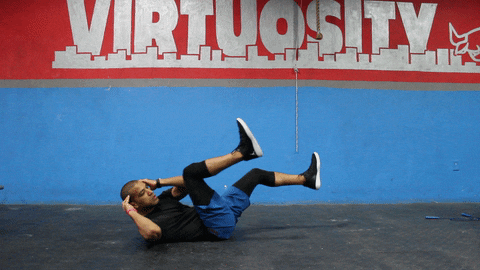 Bicycle Crunches
Lay flat on the floor. Place your hands behind your head. Your hands are there to support the weight of your head, not to pull it. Then flex your torso forward, connecting your elbow to the opposite knee. Don't straighten the bottom leg, doing so can cause a bit of low back discomfort.
V Ups
V Ups target your abdominals and hip flexors. Lay flat on the floor and then use your abs to flex your trunk forward where you will meet your legs in the middle. As you can see from the image above, your body resembles a letter "V". This exercise is more about fast, quick repetitions. To allow you to do that you're going to want to use your arms to create the impulse from the ground up. A common mistake or misconception is to only lift the legs but not remove the upper back from the ground. Your upper back must completely come off the ground. Exhale as you go up.
This is definitely not a beginner core exercise. If this movement bothers your lower back then try not to extend your legs as much.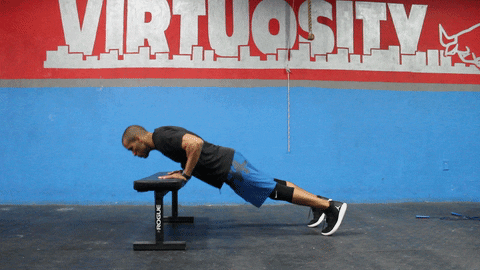 Bench Plyo Push Ups
Get on a plank position where your hands are on top of the bench. At the start, lower yourself for 2-3 secs with control and explode up as you reach the bottom. You're going to exhale at this portion of the movement.
Note: The bench plyometric push up is a regression from the standard plyometric push up which is done from the floor. If you wish to do these on the floor, by all means go for it. However, using a bench provides us with a softer landing and can allow us to have more "air time" as we push ourselves away. The air time is important to this version because it gives you time to really squeeze your chest before you return to the bench.
Box Jumps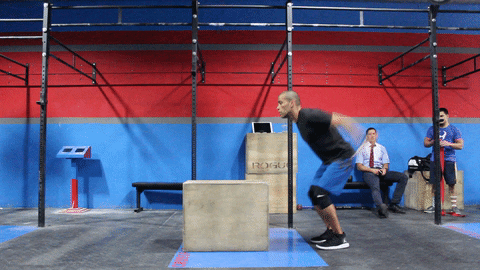 Stand around 10 inches away from the box with your feet about shoulder width apart. Shoot your hips back into a mini squat. Swing your arms back and then jump on top of a box or stable platform. Extend your hips at the top then step off to repeat the movement. Remember, if this exercise is too advanced for you have the option to do speed squats instead.
Standing Dumbbell Shoulder Press
Grab a pair of dumbbells and stand about shoulder width apart. Bring the dumbbells above your chest. Press the dumbbells upward and exhale as you do. Don't lean back. A good idea is to squeeze your butt as you are pressing, this will provide a more stable midsection.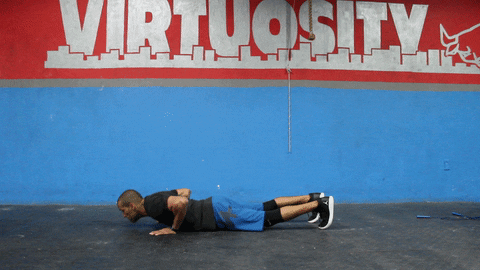 Burpees
Burpees are a great exercise for total body conditioning. Start in a plank position and lower yourself to the floor, then push yourself up as you hop your feet towards your hands to stand up. Perform a jump as soon as you stand. Then return to the floor to a plank position to repeat the exercise.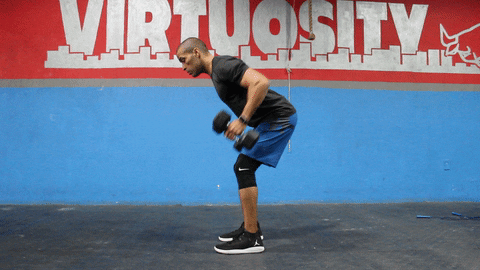 Dumbbell Rows
This dumbbell row variation is very different from Wednesday's single arm dumbbell row where you body is supported by a bench. This version requires more control and stability throughout the spine.
Shoot your hips back while you keep a soft bend at the knees. Row the dumbbells towards your torso (as you breathe out) and briefly squeeze your back muscles at the top position. Bring the dumbbells back down with control.
Side Plank with Rotation
Lie on your side. Your elbow should be underneath your shoulder. Lift yourself up. Keep your hips and shoulder squared. In this version of a side plank you are going to rotate your torso. Start by bringing the free arm inward, towards the ground.  As your arm comes underneath your body, lift yourself up further away. Exhale as you rotate inward. Go back to the top position.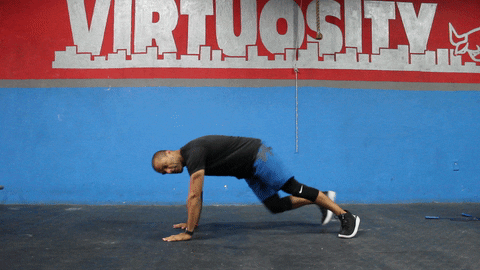 Plank- Across the Body Toe Touches
This is a dynamic plank variation that will work on flexibility at the hamstrings, stability and the hip and shoulders while also focusing on the obliques. Start in a plank position and lift opposite arm and leg at the same time. Bring your foot across your body and tap your hand. Return both limbs to the starting position to start the movement again.
There you have it, your 3-Day A Week Fat Loss Workout. If you have any questions about the exercises or circuits please leave them in the comment section below.